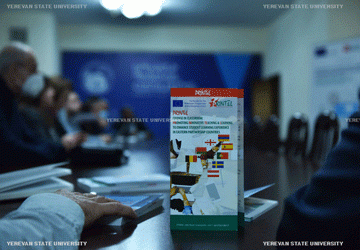 PRINTeL Project Highlights in ERASMUS+ Info-days at Yerevan State University
PRINTeL Project was presented during ERASMUS+ Info-days at Yerevan State University on October 14, 2021.
On October 14, 2021, within the frameworks of ERASMUS+ info-days the presentation of projects aimed at ERASMUS+ Activity 1 "Credit Mobility" and ERASMUS+ Activity 2 "Capacity Building" realised at Yerevan State University (YSU) was held on the initiative of YSU International Cooperation Office. In the course of the meeting both university-coordinated "PRINTeL" and other projects, such as "ABIONET", "DOCMEN", "GEOTAK", "DPPHSS", "ARMDOCT", "PROMIG", "TOPAS", "KA1 IGM" were presented and their upcoming tasks, registered results and future undertakings were introduced as well.
A. Budaghyan, PRINTeL Project Coordinator, Director of YSU Quality Assurance Centre, in the course of the presentation reported in details about the PRINTeL Project, which is aimed at the promotion of contemporary methods and forms of teaching and learning (T&L) at Eastern partnership 9 universities and the introduction of innovations in this sphere, together with the involvement of ICT new technologies in the teaching process; the aim, main objectives and work packages of the Project were also presented. According to the Project Coordinator's report, 4 main objectives were outlined in the Project, namely, reinforcement of teaching staff development centers, teachers' capacity building in innovative teaching, creation of T&L virtual platform and promotion and dissemination of innovative T&L experience. He also stated that since the launch of Project both YSU and other 8 PC universities have had significant achievements in all the mentioned areas. Presently, at 9 universities of Eastern partnership, including YSU, as a result of trainings realisied with the support of 5 EU univertsities and their direct consultations, reconstruction programmes of teaching staff development centers were reviewed and integrated which is a serious step in the issues of reinforcement and re-equipment of the mentioned centers.
A. Budaghyan remarked as well that 4550 teacher trainers, teachers and TSDC workers were trained, which also implies that annually around 50000 students get educated accordingly.
While answering the questions of the audience Project Coordinator A. Budaghyan mentioned that considering the successful experience of the Project as well as the effective and beneficial cooperation observed within the circles of the Project, the partner universities expressed their wish of making the PRINTeL Project continuous.
---

PRINTeL Project Presented in ERASMUS+ Info-days at YSU